Our Stone
What is Louilyjewelry Stone?
Louilyjewelry Stone is an excellent alternative to natural gemstones because it is more scratch-resistant for everyday wear. Unlike natural gemstones, the Louilyjewelry Stone was developed to be more durable with better optical characteristics than of a diamond while maintaining an ethical standard to protect our environment.
Why choose Louilyjewelry Stone?
| | | |
| --- | --- | --- |
| | Louilyjewelry Stone |  Mined Diamond |
| Look Like a Diamond | Yes | Yes |
| Durable | Yes | Yes |
| Hardness | 9.2 | 10 |
| Density | 5.50 | 3.52 |
| 100% Ethically Sourced | Yes | / |
| Potential Harmful Mining | / | Yes |
| Sale Price | $$~$$$ | $$$~$$$$ |
With proper care and cleaning, our jewelry can be treasured for a lifetime. Our stone is hand-cut and faceted in-house to shine brilliantly and provide a beautiful sparkle with bright, vibrant color. I have been working on upgrading our stones. Our stone in colorless form, which we use in our jewelry to simulate the amazing fire and brilliance of a natural diamond. We are confident that you will not find a better alternative in the market that shares the same quality and affordability as our stone.
Louilyjewelry Stone Carat Size Chart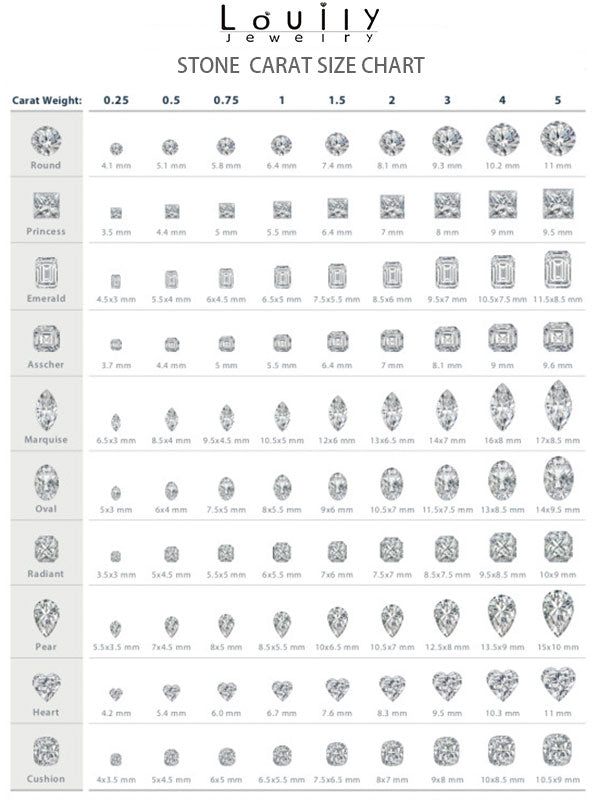 This chart illustrates how stones of different carat weights and shapes will appear when viewed from the top down.
Note: It is normal phenomenon that the size and carat of each stone may have certain deviation. Thanks for your understanding!